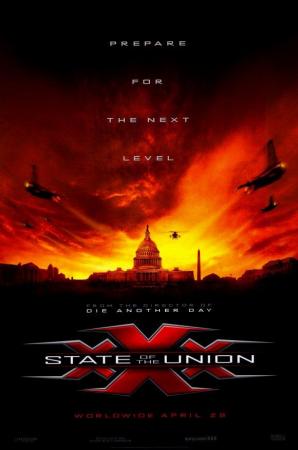 Título original

xXx2: State of the Union

aka

Año

2005

Duración

101 min.

País

 Estados Unidos

Director

Lee Tamahori

Guión

Simon Kinberg (Personajes: Rich Wilkes)

Música

Marco Beltrami

Fotografía

David Tattersall

Reparto

Ice Cube, Samuel L. Jackson, Willem Dafoe, Scott Speedman, Peter Strauss, Michael Roof, Zuñí Mabrey, Xzibit, Nona Gaye

Productora

Columbia Pictures / Original Film / Revolution Studios

Género

Acción | Secuela

Grupos

xXx

Novedad

Web oficial

http://www.sonypictures.com/movies/triplex2/

Sinopsis

Augustus Gibbons (Jackson) es un miembro de la Agencia de Seguridad Nacional norteamericana. Tras librarse de un ataque mortal protagonizado por unos desconocidos, Gibbons sospecha que los asesinos han sido enviados por una facción secreta y radical que actúa desde dentro de la Casa Blanca. Busca entonces a un militar experto y bien entrenado que le ayude a desenmascarar al grupo radical que se esconde tras el Gobierno. Desgraciadamente, Darius Stone (Ice Cube), el hombre más idóneo para este trabajo, está en prisión. Sin embargo, Gibbons le ayuda a fugarse y lo convence para que colabore con él como el agente XXX.