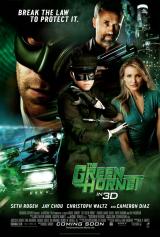 Título original
The Green Hornet

Año

2011

Duración

119 min.

País

 Estados Unidos

Director

Michel Gondry

Guión

Evan Goldberg, Seth Rogen

Música

James Newton Howard

Fotografía

John Schwartzman

Reparto

Seth Rogen, Jay Chou, Cameron Diaz, Christoph Waltz, Edward James Olmos, David Harbour, Tom Wilkinson, Jamie Harris, Chad Coleman, Edward Furlong, Joshua Erenberg, James Franco, Analeigh Tipton

Productora

Columbia Pictures / Original Film

Género

Acción. Comedia | Superhéroes. 3-D

Web oficial

http://www.sonypictures.com/movies/thegreenhornet/

Sinopsis

De noche, Britt Reid (Seth Rogen), heredero del gran imperio periodístico creado por su padre (Tom Wilkinson), se convierte en un héroe enmascarado que se propone combatir el crimen: es The Green Hornet. Su compañero de aventuras es Kato (Jay Chou), un experto en artes marciales.