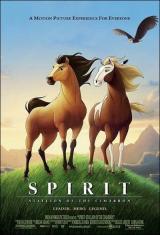 Título original
Spirit: Stallion of the Cimarron

aka

Año

2002

Duración

80 min.

País

 Estados Unidos

Director

Kelly Asbury, Lorna Cook

Guión

John Fusco

Música

Hans Zimmer (Canciones: Bryan Adams)

Fotografía

Animation

Reparto

Animation

Productora

DreamWorks Animation / DreamWorks SKG

Género

Animación. Aventuras. Infantil. Western | Animales. Caballos

Web oficial

http://www.dreamworks.com/spirit/

Sinopsis

Sigue las aventuras de un corcel mustang salvaje e ingobernable que recorre la indómita frontera norteamericana. Cuando encuentra a un hombre por primera vez, un joven de la tribu de los Lakota llamado Little Creek, Spirit se niega a dejarse domar por él pero sí se hace amigo suyo. El valiente corcel también encuentra el amor con una hermosa yegua llamada Rain. Spirit se conviertirá en uno de los grandes héroes anónimos del Viejo Oeste.