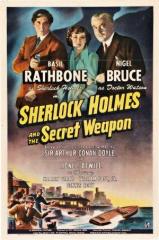 Título original
Sherlock Holmes and the Secret Weapon

Año

1943

Duración

68 min.

País

 Estados Unidos

Director

Roy William Neill

Guión

Edward T. Lowe Jr., Scott Darling, Edmund L. Hartmann (Novela: Arthur Conan Doyle)

Música

Frank Skinner

Fotografía

Lester White (B&W)

Reparto

Basil Rathbone, Nigel Bruce, Lionel Atwill, Kaaren Verne, William Post Jr., Dennis Hoey, Holmes Herbert, Mary Gordon

Productora

Universal Pictures

Género

Intriga. Thriller | Sherlock Holmes

Sinopsis

El detective Sherlock Holmes (Basil Rathbone) y su fiel ayudante el doctor Watson (Nigel Bruce) se enfrentan al colaboracionista nazi Profesor Moriarty. Moriarty tiene entre sus planes secuestrar a un científico británico que ha creado una nueva mira de bombardero para atacar al ejército alemán.