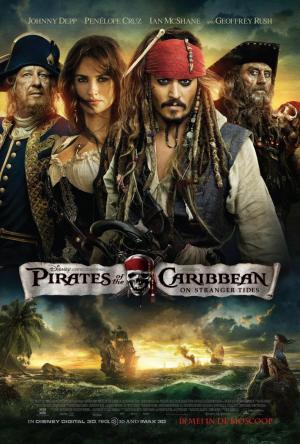 Título original

Pirates of the Caribbean: On Stranger Tides

aka

Año

2011

Duración

141 min.

País

 Estados Unidos

Director

Rob Marshall

Guión

Ted Elliott,

Terry Rossio (Novela: Tim Powers)

Música

Fotografía

Reparto

Johnny Depp, Geoffrey Rush, Penélope Cruz, Ian McShane, Sam Claflin, Kevin R. McNally, Astrid Bergès-Frisbey, Óscar Jaenada, Robbie Kay, Keith Richards, Judi Dench, Stephen Graham, Richard Griffiths, Roger Allam, Paul Bazely, Gemma Ward, Andrew Crayford, Derek Mears

Productora

Walt Disney Pictures / Jerry Bruckheimer Films

Género

Aventuras. Fantástico. Acción | Aventuras marinas. Piratas. Capa y espada. Secuela. 3-D

Grupos

Piratas del Caribe

Novedad

Web oficial

http://disney.com/pirates/

Sinopsis

Cuando Jack Sparrow (Johnny Depp) vuelve a encontrarse con una mujer a la que había conocido años atrás (Penélope Cruz), no está seguro de si se trata de amor o si ella es una estafadora sin escrúpulos que lo está utilizando para encontrar la legendaria Fuente de la Juventud. A todo esto, Jack es capturado por el Queen Anne's Revenge, el barco del temible pirata Barbanegra (Ian McShane), que lo obliga a unirse a su tripulación, lo que le hará vivir una inesperada aventura en la que no sabe quién le inspira más miedo si Barbanegra o esa mujer que regresa del pasado.