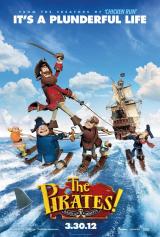 Título original
The Pirates! Band of Misfits

Año

2012

Duración

88 min.

País

 Reino Unido

Director

Peter Lord, Jeff Newitt

Guión

Gideon Defoe (Libros: Gideon Defoe)

Música

Theodore Shapiro

Fotografía

Animation

Reparto

Animation

Productora

Coproducción Reino Unido-EEUU; Aardman Animation / Sony Pictures Animation

Género

Animación. Comedia. Aventuras | Aventuras marinas. Piratas. Stop Motion. Claymation (Plastilina). 3-D. Pájaros

Sinopsis

Un peculiar grupo de piratas y su capitán desean, por encima de todo, ganar el premio al Pirata del Año. Sus aventuras los llevarán desde las orillas de Isla Sangrienta hasta las calles de Londres. Tendrán que enfrentarse con piratas rivales, pero también se encontrarán con Charles Darwin e incluso con un chimpancé parlante.