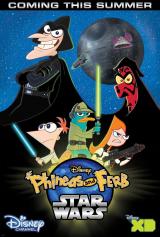 Título original

Phineas and Ferb: Star Wars (May the Ferb be With You) (TV)

Año

2014

Duración

51 min.

País

 Estados Unidos

Director

Dan Povenmire

Guión

Jeff 'Swampy' Marsh, Dan Povenmire (Personajes: George Lucas)

Fotografía

Animation

Reparto

Animation

Productora

Walt Disney Television Animation

Género

Animación. Comedia. Ciencia ficción | Star Wars. Mediometraje. Spin-off. Telefilm

Grupos

Phineas y Ferb

Novedad

Sinopsis

Hace algunos veranos en una Galaxia muy, muy lejana… Phineas y Ferb disfrutan con el resplandor de los Soles Gemelos del planeta Tatooine, hasta que los planos para destruir la Estrella de la Muerte caen accidentalmente en sus manos, empujándoles (y al Agente P) a una rebelión galáctica y una lucha épica del bien contra el mal en Phineas y Ferb: Star Wars. ¿Serán capaces Phineas y Ferb de resistir el Lado Oscuro? ¿Finalmente arrestarán los soldados de asalto a un rebelde?¿Puede el Agente P detener a Darthenshmirtz usando la potencia de su fuerza "Sith-inéitor"?