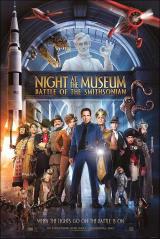 Título original
Night at the Museum: Battle of the Smithsonian (Night at the Museum 2)

Año

2009

Duración

105 min.

País

 Estados Unidos

Director

Shawn Levy

Guión

Robert Ben Garant, Thomas Lennon

Música

Alan Silvestri

Fotografía

John Schwartzman

Reparto

Ben Stiller, Amy Adams, Hank Azaria, Owen Wilson, Ricky Gervais, Robin Williams, Bill Hader, Steve Coogan, Christopher Guest, Jonah Hill, Jon Bernthal, Alain Chabat, Patrick Gallagher, Jake Cherry, Jay Baruchel, Craig Robinson, George Foreman, Ed Helms

Productora

20th Century Fox / 1492 Pictures / Museum Canada Productions

Género

Comedia. Fantástico | Secuela. Cine familiar

Web oficial

http://www.unanocheenelmuseo2.com/

Sinopsis

El vigilante jurado Larry Daley (Ben Stiller) se ve obligado a decir adiós a todos sus amigos cuando deciden hacer el Museo de Ciencias Naturales más "interactivo" y sustituyen todas las figuras por hologramas. Sus amigos históricos son empaquetados y enviados a los archivos del famoso Smithsonian, en Washington, DC., el museo más grande del mundo. No han pasado ni 24 horas cuando Larry recibe una llamada de Jedediah, el cowboy en miniatura, y descubre que la tabla de Ahkmenrah ha sido extraviada y esto ha hecho que el Smithsonian cobre vida. Para salvar a sus amigos, Larry tendrá que viajar a Washington, DC y luchar contra Kahmunrah, Al Capone, Iván el Terrible y Napoleón que han planeado un complot para apoderarse de la tabla. En medio del caos, Larry hará nuevos amigos, como Amelia Earhart o Albert Einstein que le ayudarán a detener el complot y salvar el museo.