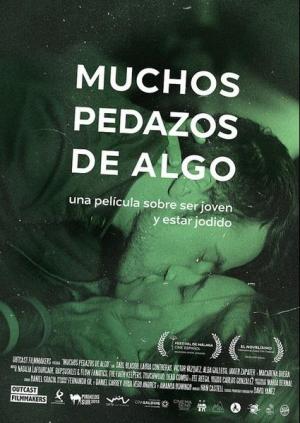 Título original

Muchos pedazos de algo

Año

2015

Duración

104 min.

País

 España

Director

David Yañez

Guión

David Yañez

Música

Natalia Lafourcade, Rapsus Klei, the Flow Fanatics, Touchwood, Dead Combo, The Faith keepers, Josh Woodward, Fee Reega, The hands, Fee Reega, Hussalonia, Black Math, Lo-fi is Sci-fi

Fotografía

Carlos González (B&W)

Reparto

Saúl Blasco, Laura Contreras, Víctor Vázquez, Javier Zapater, Alba Gallego, Macarena Buera, Isabel Pérez, Roberto Millán, Alina Nastase, Fee Reega

Productora

Outcast Filmmakers

Género

Comedia. Romance | Comedia romántica

Sinopsis

Todos tenemos fantasías sobre cómo arreglar nuestra vida de una vez por todas, lo que incluye arriesgarlo todo y salir indemnes. Un grupo de jóvenes, además de fantasear, se ponen manos a la obra, pero sin haber elaborado planes de ninguna clase.