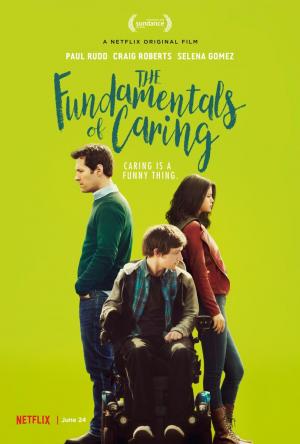 Título original

The Fundamentals of Caring

aka

Año

2016

Duración

93 min.

País

 Estados Unidos

Director

Rob Burnett

Guión

Rob Burnett (Novela: Jonathan Evison)

Música

Ryan Miller

Fotografía

Giles Nuttgens

Reparto

Paul Rudd, Craig Roberts, Selena Gomez, Jennifer Ehle, Megan Ferguson, Ashley White, Patti Schellhaas, Blake Sewell, Walter Hendrix III, Robert Walker Branchaud, Julia Denton, Kristi Von, James Donadio, Alan Boell, Bill Murphey, Tarik Chernet

Productora

Worldwide Pants; Distribuída por Netflix

Género

Drama | Comedia dramática. Cine independiente USA. Road Movie

Sinopsis

Ben es un escritor retirado que decide dedicarse a cuidar enfermos tras pasar una tragedia personal. Después de 6 semanas de formación, conoce a su primer cliente, Trevor, un deslenguado chico de 18 años con distrofia muscular. Al poco tiempo, se embarcan con sus parálisis respectivas, uno emocional y el otro física, en un viaje improvisado a todos los sitios que más le han llamado la atención a Trevor en las noticias de la televisión, entre los que destaca especialmente el "Hoyo más profundo del mundo". Por el camino recogen a una chica embarazada muy descarada que se ha escapado de casa. Ella los ayudará a aprender a sobrevivir fuera de su calculada rutina mientras van entendiendo la importancia de la esperanza y de la amistad de verdad.