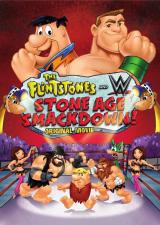 Título original
The Flintstones and WWE: Stone Age Smackdown

Año

2015

Duración

50 min.

País

 Estados Unidos

Director

Spike Brandt, Tony Cervone

Guión

Jed Elinoff, Scott Thomas

Música

Austin Wintory

Fotografía

Animation

Reparto

Animation

Productora

Warner Bros. Animation / WWE Studios

Género

Animación. Comedia | Wrestling/Lucha libre. Mediometraje

Sinopsis

Cuando Pedro Picapiedra pierde el dinero de las vacaciones de su familia, traza un descabellado plan para recuperarlo. Es un espectáculo de entretenimiento deportivo que consiste en lanzar a su mejor amigo, Pablo, en el ring de lucha libre contra John Cenastone, Rey Mysteriopal (Rey Mysterio) e incluso el Enterrador.