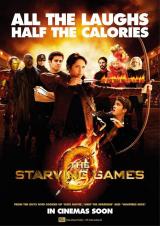 Título original
The Starving Games

Año

2013

Duración

83 min.

País

 Estados Unidos

Director

Jason Friedberg, Aaron Seltzer

Guión

Jason Friedberg, Aaron Seltzer

Música

Tim Wynn

Fotografía

Shawn Maurer

Reparto

Maiara Walsh, Brant Daugherty, Cody Christian, Lauren Bowles, Christopher Matthew Cook, Joseph Aviel, Eric Buarque, Jason Stanly

Productora

The Safran Company / Louisiana Production Consultants

Género

Comedia | Parodia. Comedia absurda

Web oficial

https://www.facebook.com/StarvingGames

Sinopsis

Parodia de "Los juegos del hambre" de los creadores de "Date Movie" y "Epic Movie". También parodiará producciones de éxito recientes como "Los vengadores", "Sherlock Holmes" o las últimas entregas de "Harry Potter".