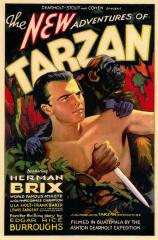 Título original
The New Adventures of Tarzan

Año

1935

Duración

70 min.

País

 Estados Unidos

Director

Edward A. Kull

Guión

Bennett Cohen, Charles F. Royal (Personaje: Edgar Rice Burroughs)

Fotografía

Edward A. Kull, Ernest F. Smith (B&W)

Reparto

Bruce Bennett (AKA Herman Brix), Ula Holt, Frank Baker, Dale Walsh, Harry Ernest, Ashton Dearholt, Lewis Sargent, Merrill McCormick

Productora

Burroughs-Tarzan Enterprises Inc.

Género

Acción. Aventuras | Tarzán

Sinopsis

En esta ocasión la trama sigue a un totem denominado "La Diosa Verde", adorado por nativos de una tribu oculta en las espesuras de la jungla de Guatemala. La Diosa implica no solo una fortuna en piedras preciosas, sino también la fórmula de un nuevo explosivo capaz de una destrucción masiva. Varias expediciones en busca de la estatuilla se topan con Lord Greystoke, que, a bordo de un buque, marcha al citado país centroamericano en búsqueda de un amigo cuyo aeroplano cayó en la selva y se ha extraviado.