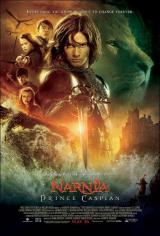 Título original
The Chronicles of Narnia: Prince Caspian

Año

2008

Duración

144 min.

País

 Estados Unidos

Director

Andrew Adamson

Guión

Andrew Adamson, Christopher Markus, Stephen McFeely (Novela: C.S. Lewis)

Música

Harry Gregson-Williams

Fotografía

Karl Walter Lindenlaub

Reparto

Ben Barnes, William Moseley, Skandar Keynes, Anna Popplewell, Georgie Henley, Sergio Castellitto, Alicia Borrachero, Peter Dinklage, Warwick Davis, Pierfrancesco Favino, Cornell John, Simón Andreu, Predrag Bjelac, Vincent Grass, Damián Alcázar, Juan Diego Montoya Garcia, Tilda Swinton

Productora

Walden Media / Walt Disney Pictures / Stillking Films

Género

Fantástico. Aventuras | Secuela. Cine familiar

Web oficial

http://disney.go.com/disneypictures/

Sinopsis

La acción de "Las crónicas de Narnia. El Príncipe Caspian" transcurre un año después de los increíbles acontecimientos de "El León, la Bruja y el Armario", cuando los reyes y las reinas de Narnia -los 4 hermanos Pevensie- vuelven a reunirse en ese remoto y fantástico mundo, donde descubrirán que han pasado más de 1.300 años, calculados en tiempo narniano. Durante su ausencia, la Edad de Oro de Narnia ha terminado, y los Telmarinos han conquistado el reino de Narnia, que ahora está dominado por el malvado Rey Miraz, que gobierna sin piedad. Los cuatro niños no tardarán en conocer un nuevo y extraño personaje: el joven Príncipe Caspian, heredero legítimo al trono que se ha visto obligado a esconderse ya que su tío Miraz trama su asesinato para colocar a su hijo recién nacido en el trono. Con la ayuda del bondadoso duende, un valiente ratón parlante llamado Reepicheep, de un tejón llamado Trufflehunter y de un Duende Negro, Nikabrik, los Narnianos, liderados por los poderosos caballeros Peter y Caspian, se embarcan en un extraordinario viaje para encontrar a Aslan, liberar Narnia del yugo tiránico de Miraz y restaurar la magia y la paz en el territorio.