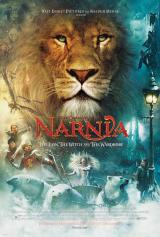 Título original
The Chronicles of Narnia: The Lion, The Witch and the Wardrobe

Año

2005

Duración

140 min.

País

 Estados Unidos

Director

Andrew Adamson

Guión

Ann Peacock, Andrew Adamson, Christopher Markus, Stephen McFeely (Novela: C.S. Lewis)

Música

Harry Gregson-Williams

Fotografía

Donald McAlpine

Reparto

Georgie Henley, William Moseley, Skandar Keynes, Anna Popplewell, Tilda Swinton, Rupert Everett, Dawn French, James McAvoy, Shane Rangi, Patrick Kake, Elizabeth Hawthorne, Kiran Shah, James Cosmo, Judy McIntosh, Sala Baker, Jim Broadbent, Stephen Ure, Ray Winstone, Liam Neeson

Productora

Walt Disney Pictures

Género

Fantástico. Aventuras | Cine familiar

Web oficial

http://www.narnia.com.es

Sinopsis

La historia narra las aventuras de cuatro hermanos: Lucy, Edmund, Susan y Peter que, durante la Segunda Guerra Mundial, descubren el mundo de Narnia, al que acceden a través de un armario mágico mientras juegan al escondite en la casa de campo de un viejo profesor. En Narnia descubrirán un mundo increíble habitado por animales que hablan, duendes, faunos, centauros y gigantes al que la Bruja Blanca- Jadis- ha condenado al invierno eterno. Con la ayuda del león Aslan, el noble soberano, los niños lucharán para vencer el poder que la Bruja Blanca ejerce sobre Narnia en una espectacular batalla y conseguir así liberarle de la maldición del frío.