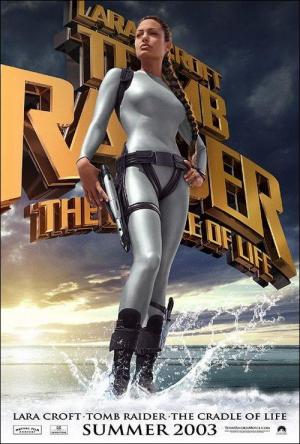 Título original

Lara Croft Tomb Raider: The Cradle of Life

aka

Año

2003

Duración

118 min.

País

 Estados Unidos

Director

Jan de Bont

Guión

Dean Georgaris (Historia: Kirk M. Petruccelli, Lloyd Levin)

Música

Alan Silvestri

Fotografía

David Tattersall

Reparto

Angelina Jolie, Gerard Butler, Chris Barrie, Ciarán Hinds, Djimon Hounsou, Noah Taylor, Robert Atiko, Andrew Joshi, Fabiano Martell

Productora

Paramount Pictures / Mutual Film Company / BBC / Tele-München / Toho-Towa

Género

Aventuras. Acción. Fantástico | Secuela. Videojuego

Grupos

Tomb Raider

Novedad

Web oficial

http://www.tombraidermovie.com

Sinopsis

Enfrentándose a nuevos y mayores peligros y desafíos, Lara Croft muestra sus poderes físicos en otra trepidante aventura. La intrépida heroína viaja a un templo sumergido bajo el agua en busca de la legendaria "Caja de Pandora", pero antes de llegar, una banda de criminales chinos consigue apoderarse del preciado objeto. Lara tendrá que detenerlos antes de que lo usen con fines maléficos.