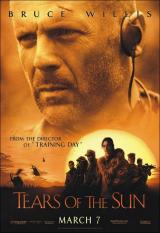 Título original
Tears of the Sun

Año

2003

Duración

121 min.

País

 Estados Unidos

Director

Antoine Fuqua

Guión

Alex Lasker, Patrick Cirillo

Música

Hans Zimmer

Fotografía

Mauro Fiore

Reparto

Bruce Willis, Monica Bellucci, Cole Hauser, Tom Skerritt, Eamonn Walker, Nick Chinlund, Fionnula Flanagan, Malick Bowens, Johnny Messner, Chad Smith, Charles Ingram

Productora

Columbia Pictures / Revolution Studios / Cheyenne

Género

Bélico. Acción | África. Ejército

Web oficial

http://www.sonypictures.com/movies/tearsofthesun/

Sinopsis

Un equipo comandado por el teniente Waters (Bruce Willis), un veterano oficial de la unidad especial SEAL, se adentra en el corazón de África con la misión de rescatar a Lena Kendrick (Monica Bellucci), una doctora americana que trabaja en una zona muy conflictiva. Pero, cuando la encuentran, ella se niega a abandonar a los refugiados y exige a Waters que los escolte a todos a través de la peligrosa jungla nigeriana. El oficial tendrá que enfrentarse a un grave dilema: obedecer las órdenes recibidas o, por el contrario, seguir los dictados de su propia conciencia.