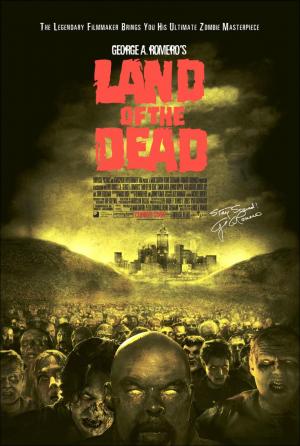 Título original

George A. Romero's Land of the Dead

Año

2005

Duración

93 min.

País

 Estados Unidos

Director

George A. Romero

Guión

Música

Reinhold Heil,

Johnny Klimek

Fotografía

Reparto

Simon Baker, John Leguizamo, Dennis Hopper, Asia Argento, Robert Joy, Eugene Clark, Shawn Roberts, Tony Nappo, Joanne Boland, Tom Savini

Productora

Género

Terror | Gore. Zombis. Sátira

Grupos

Saga "…de los muertos" de George A. Romero

Novedad

Web oficial

http://www.landofthedeadmovie.net/

Sinopsis

En el mundo actual, los muertos vivientes ocupan una tierra desértica mientras intentan llevar una vida "normal" a las afueras de una ciudad fortificada. En el interior, un puñado de oportunistas sin escrúpulos ha construido una nueva sociedad a la que contemplan desde la altura de un rascacielos. Abajo, en las calles, la gente intenta sobrevivir. Fuera, el ejército de los muertos se acerca. Dentro, reina la anarquía. La supervivencia de la ciudad depende de un grupo de mercenarios contratados para defender a los vivos.