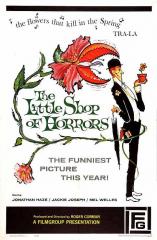 Título original
The Little Shop of Horrors

aka

Año

1960

Duración

72 min.

País

 Estados Unidos

Director

Roger Corman

Guión

Charles Griffith (AKA Charles B. Griffith)

Música

Fred Katz

Fotografía

Arch R. Dalzell (B&W)

Reparto

Jonathan Haze, Mel Welles, Jackie Joseph, Dick Miller, Myrtle Vail, Leola Wendorff, Jack Nicholson

Productora

Filmgroup / Santa Clara Productions

Género

Terror. Comedia | Serie B. Monstruos. Comedia de terror. Película de culto

Sinopsis

Seymour Krelboin (Jonathan Haze), un joven dependiente de una floristería, está enamorado de su compañera Audrie (Jackie Joseph), pero ella sale con un sádico dentista. Un día, justo después de un extraño eclipse, compra una extraña planta, a la que bautiza como Audrie II. La planta crece rápidamente, gracias a que Seymour le proporciona el alimento que necesita, y se convierte en un ejemplar espectacular, una verdadera atracción para la ciudad.