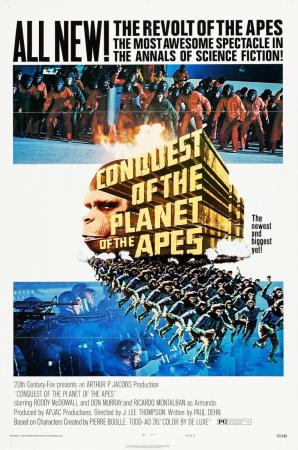 Título original

Conquest of the Planet of the Apes

Año

1972

Duración

85 min.

País

 Estados Unidos

Director

J. Lee Thompson

Guión

Paul Dehn (Personajes: Pierre Boulle)

Música

Tom Scott

Fotografía

Bruce Surtees

Reparto

Roddy McDowall, Don Murray, Natalie Trundy, Ricardo Montalbán, Hari Rhodes, Severn Darden

Productora

20th Century Fox

Género

Ciencia ficción. Fantástico. Aventuras | Secuela. Simios

Grupos

El planeta de los simios

Novedad

Sinopsis

Estados Unidos, 1991. Tras una epidemia que mató a todos los gatos y perros de la Tierra, los hombres adoptaron como mascotas a los monos, que acabaron convertidos en sirvientes. Se creó entonces un centro para domesticar a los ejemplares salvajes por medio de la violencia y del electroshock. Armando ha criado en secreto a César, el hijo de dos simios parlantes: Zira y Cornelius. Cuando César comprueba lo que los hombres están haciendo con los de su especie, manifiesta públicamente su desacuerdo y, desde entonces, se ve obligado a ocultarse. Cuando descubre que puede comunicarse con los suyos telepáticamente, empieza a organizar una insurrección: incita a los suyos a la desobediencia general, los arma y comineza a vislumbrar que la inteligencia es poder.