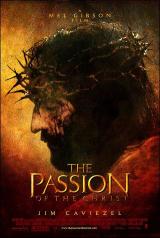 Título original
The Passion of the Christ

Año

2004

Duración

126 min.

País

 Estados Unidos

Director

Mel Gibson

Guión

Mel Gibson & Benedict Fitzgerald

Música

John Debney

Fotografía

Caleb Deschanel

Reparto

James Caviezel (AKA Jim Caviezel), Monica Bellucci, Maïa Morgenstern, Francesco Cabras, Rosalinda Celentano, Claudia Gerini, Sergio Rubini, Hristo Jivkov

Productora

Newmarket Film Group / Icon Productions

Género

Drama | Religión. Biblia. Gore

Sinopsis

Año 30 de nuestra era. En la provincia romana de Judea, un misterioso carpintero llamado Jesús de Nazareth comienza a anunciar la llegada del "reino de Dios" y se rodea de un grupo de humildes pescadores: los Apóstoles. Durante siglos, el pueblo judío había esperado la llegada del Mesías – personaje providencial que liberaría su sagrada patria e instauraría un nuevo orden basado en la justicia-. Las enseñanzas de Jesús atraen a una gran multitud de seguidores que lo reconocen como el Mesías. Alarmado por la situación, el Sanedrín, con la ayuda de Judas Iscariote, uno de los doce Apóstoles, arresta a Jesús. Acusado de traición a Roma, Cristo es entregado a Poncio Pilato, quien, para evitar un motín, lo condena a a morir en la cruz como un vulgar criminal.