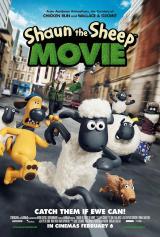 Título original
Shaun the Sheep: The Movie

aka

Año

2015

Duración

85 min.

País

 Reino Unido

Director

Richard Starzak, Mark Burton

Guión

Richard Starzak, Mark Burton

Música

Ilan Eshkeri

Fotografía

Charles Copping, Dave Alex Riddett

Reparto

Animation

Productora

Aardman Animations / Studiocanal

Género

Animación. Comedia | Stop Motion. Claymation (Plastilina). 3-D

Web oficial

http://www.shaunthesheep.com/trailer

Sinopsis

Shaun iniciará una aventura para adentrarse en la ciudad en la búsqueda de su granjero. Adaptación en formato largometraje de la serie homónima.