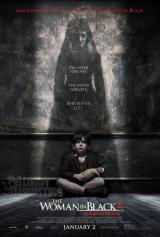 Título original
The Woman in Black 2: Angel Of Death

Año

2015

Duración

98 min.

País

 Reino Unido

Director

Tom Harper

Guión

Jon Croker (Novela: Susan Hill)

Música

Marco Beltrami, Brandon Roberts

Fotografía

George Steel

Reparto

Helen McCrory, Jeremy Irvine, Phoebe Fox, Oaklee Pendergast, Adrian Rawlins, Ned Dennehy, Faith Elizabeth, Jorge Leon Martinez, Leanne Best

Productora

Hammer Film Productions

Género

Terror | Secuela. Sobrenatural. Fantasmas. Casas encantadas. Años 40

Sinopsis

Huyendo de los horrores de la Segunda Guerra Mundial (1939-1945), ocho escolares, acompañados por la directora del colegio (Helen McCrory) y una profesora (Phoebe Fox), son evacuados de Londres y trasladados a una aldea. Allí conocen a Harry Burnstow (Jeremy Irvine), un piloto de la RAF que, al igual que ellos, se alojará en una ruinosa casa situada en una isla que sólo se comunica con tierra firme por la carretera de las Nueve Vidas, una calzada que desaparece con las mareas. Su presencia no tarda en despertar una fuerza malévola que surge de la oscuridad y lleva décadas rondando esa mansión en ruinas: se trata de "La mujer de negro".