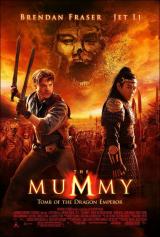 Título original
The Mummy: Tomb of the Dragon Emperor (The Mummy 3)

aka

Año

2008

Duración

114 min.

País

 Estados Unidos

Director

Rob Cohen

Guión

Alfred Gough, Miles Millar

Música

Randy Edelman

Fotografía

Simon Duggan

Reparto

Brendan Fraser, Maria Bello, Luke Ford, Jet Li, Michelle Yeoh, John Hannah, Liam Cunningham, Russell Wong, Isabella Leong, Anthony Wong Chau-Sang, Albert Kwan, Tian Liang

Productora

Coproducción EEUU-Alemania-Canadá; Alphaville Films

Género

Aventuras. Acción. Fantástico. Thriller | Secuela. Monstruos. Brujería

Web oficial

http://www.lamomia.es/

Sinopsis

Condenados por una perversa bruja a permanecer en estado de muerte aparente para siempre, el despiadado emperador chino Dragón y sus diez mil guerreros han reposado durante siglos en su tumba de barro cual ejército de terracota. Cuando le exigen al joven aventurero y arqueólogo Alex O'Connel que despierte de su sueño eterno al temible gobernante, no tendrá más remedio que consultar a sus padres: las únicas personas expertas en no muertos. Cuando el monarca regresa a la vida, su afán de dominio no tiene límites y, usando sus poderes sobrenaturales, se lanzará con sus tropas a la conquista del Lejano Oriente, a menos que los O'Connell encuentren la forma de impedírselo.