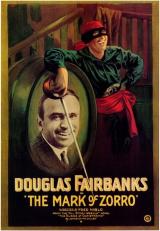 Título original
The Mark of Zorro

Año

1920

Duración

90 min.

País

 Estados Unidos

Director

Fred Niblo

Guión

Johnston McCulley

Música

Película muda

Fotografía

William C. McGann, Harris Thorpe (B&W)

Reparto

Douglas Fairbanks, Marguerite De La Motte, Robert McKim, Noah Beery, Charles Hill Mailes, Claire McDowell, Snitz Edwards, Sidney De Gray, George Periolat, Tote Du Crow

Productora

United Artists presenta una producción Douglas Fairbanks Pictures

Género

Aventuras | Cine mudo. Siglo XIX. América colonial

Sinopsis

En la antigua California española, existe un misterioso enmascarado por la justicia de los desvalidos y oprimidos, el Zorro, es el paladín de los pobres. El Capitán Juan Ramón ha jurado capturarlo, pero no sólo son rivales con la espada, compiten por los favores de Lolita Pulido.