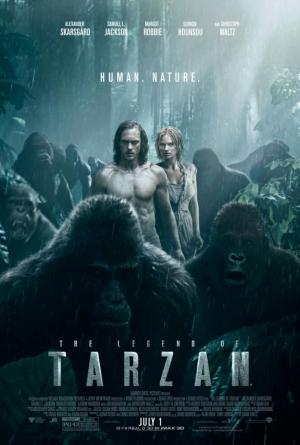 Título original

The Legend of Tarzan

Año

2016

Duración

109 min.

País

 Estados Unidos

Director

David Yates

Guión

Stuart Beattie, Craig Brewer, John Collee, Adam Cozad (Novela: Edgar Rice Burroughs)

Música

Rupert Gregson-Williams

Fotografía

Henry Braham

Reparto

Alexander Skarsgård, Margot Robbie, Christoph Waltz, Samuel L. Jackson, Djimon Hounsou, John Hurt, Ella Purnell, Cali, Simon Russell Beale, Madeleine Worrall, Laurence Spellman, Lasco Atkins, Matthew William Jones, Casper Crump, Guy Potter

Productora

Warner Bros. Pictures / Jerry Weintraub

Género

Aventuras | Naturaleza. Animales. 3-D

Grupos

Tarzán

Novedad

Sinopsis

Ya han pasado varios años desde que Tarzán (Alexander Skarsgård) abandonara la jungla africana para llevar una vida aburguesada como John Clayton III, Lord Greystoke, junto a su amada esposa Jane (Margot Robbie), pero ahora le han invitado a que vuelva al Congo para ejercer de embajador de comercio en el parlamento. En realidad, todo forma parte de un plan ideado por el capitán belga Leon Rom (Christoph Waltz), pero los responsables de esta estrategia no tienen ni idea de lo que se les viene encima.