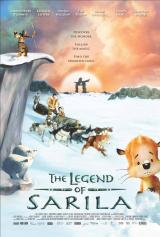 Título original

The Legend of Sarila / La Légende de Sarila (Frozen Land)

Año

2013

Duración

80 min.

País

 Canadá

Director

Nancy Florence Savard

Guión

Roger Harvey, Pierre Tremblay

Música

Olivier Auriol

Fotografía

Animation

Reparto

Animation

Productora

10th Ave / CarpeDiem Film & TV / Los Hijos de su Madre / Shax Animation

Género

Animación. Aventuras. Drama. Fantástico | Naturaleza

Web oficial

http://www.10ave.com/site/sarila_en

Sinopsis

Una tribu de esquimales de la tundra ártica se ve amenazada por la desaparición de la caza. Croolik, el anciano chamán de la tribu, es incapaz de resolver el problema. Día tras día, los cazadores regresan con las manos vacías. La anciana mujer del chamán recuerda "La leyenda de Sarila", una tierra sagrada donde hay caza en abundancia, pero a la que sólo pueden acceder los elegidos por los dioses. El chamán se siente amenazado por Markussi, un chico del clan que ha empezado a desarrollar poderes mágicos. Con la intención de acabar con su vida, lo elige a él y a sus dos amigos para la peligrosa aventura. Para salvar a sus amigos y llegar a Sarila, Markussi deberá aprender a usar sus poderes y a aceptar la responsabilidad que supone tenerlos.