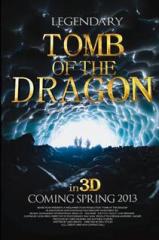 Título original
Legendary: Tomb of the Dragon

Año

2013

Duración

92 min.

País

 Reino Unido

Director

Eric Styles

Guión

Andy Briggs

Fotografía

Shu Yang

Reparto

Scott Adkins, Dolph Lundgren, Lydia Leonard, James Lance, Yi Huang, David Thomas Jenkins, Paul Philip Clark

Productora

Coproducción Reino Unido-China; China Film Group / Midsummer Films / Ripken Productions

Género

Acción. Aventuras

Web oficial

http://www.gfmfilms.co.uk/films/post-production/tomb-of-the-dragon/

Sinopsis

Travis es un reconocido paleontólogo que pretende demostrar la existencia de una criatura prehistórica en una zona remota donde varios trabajadores han sido atacados. Para ello, no duda en desplazarse hasta allí con un equipo de expertos. Pero deberá enfrentarse a su enemigo Harker, un hombre sin escrúpulos que pretende cazar a la bestia para hacerse rico.