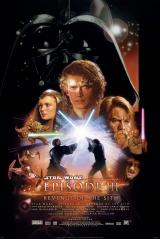 Título original
Star Wars: Episode III Revenge of the Sith

aka

Año

2005

Duración

135 min.

País

 Estados Unidos

Director

George Lucas

Guión

George Lucas

Música

John Williams

Fotografía

David Tattersall

Reparto

Hayden Christensen, Ewan McGregor, Natalie Portman, Ian McDiarmid, Samuel L. Jackson, Jimmy Smits, Anthony Daniels, Kenny Baker, Frank Oz, Christopher Lee, Peter Mayhew, Andrew Secombe, Silas Carson, Keisha Castle-Hughes, Temuera Morrison, Trisha Noble, Bruce Spence, Ahmed Best, Joel Edgerton, George Lucas

Productora

20th Century Fox

Género

Ciencia ficción. Aventuras | Precuela. Secuela. Star Wars

Web oficial

http://www.starwars.com

Sinopsis

Último capítulo de la saga de Star Wars, en el que Anakin Skywalker definitivamente se pasa al lado oscuro. En el Episodio III aparece el General Grievous, un ser implacable mitad-alien mitad-robot, el líder del ejército separatista Droid. Los Sith son los amos del lado oscuro de la Fuerza y los enemigos de los Jedi. Ellos fueron prácticamente exterminados por los Jedi hace mil años, pero la orden del mal sobrevivió en la clandestinidad.