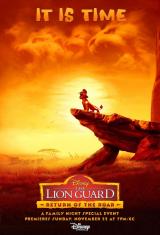 Título original

The Lion Guard: Return of the Roar (TV)

Año

2015

Duración

44 min.

País

 Estados Unidos

Director

Howy Parkins

Guión

Ford Riley

Música

Christopher Willis, Beau Black

Fotografía

Animation

Reparto

Animation

Productora

Disney Television Animation

Género

Animación. Aventuras. Infantil | África. Secuela. Mediometraje. Telefilm

Grupos

El Rey León

Novedad

Web oficial

http://movies.disney.com/the-lion-guard

Sinopsis

Sigue las aventuras de Kion, hijo de Simba y Nala, en sus aventuras junto a un grupo de amigos para defender la Sabana de distintas amenazas y mantener el balance en el círculo de la vida.