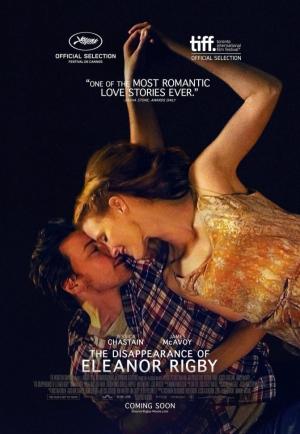 Título original

The Disappearance of Eleanor Rigby: Them

aka

Año

2014

Duración

119 min.

País

 Estados Unidos

Director

Ned Benson

Guión

Ned Benson

Música

Son Lux

Fotografía

Christopher Blauvelt

Reparto

Jessica Chastain, James McAvoy, William Hurt, Isabelle Huppert, Viola Davis, Ciarán Hinds, Nina Arianda, Bill Hader, Ryan Eggold, Archie Panjabi, Jess Weixler, Nikki M. James, Jeremy Shamos, Wyatt Ralff, Brendan Donaldson, Daron Stewart, Julee Cerda, Katherine Waterston

Productora

The Weinstein Company / Myriad Pictures

Género

Romance. Drama | Drama romántico

Web oficial

http://www.EleanorRigby-movie.com

Sinopsis

Eleanor y Conor son un matrimonio neoyorquino al que, un día, un terrible golpe del destino en forma de tragedia hace añicos sus vidas y su relación. Ella desaparece de la vida de Conor y vuelve a casa de sus padres. Él quiere ponerse en contacto con ella, pero ésta se niega. Ambos tendrán entonces que esforzarse en sobrellevar la desgracia y, quizá sólo así, recuperar su amor.