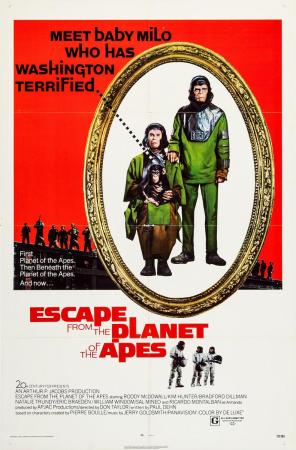 Título original

Escape From The Planet of The Apes

Año

1971

Duración

97 min.

País

 Estados Unidos

Director

Don Taylor

Guión

Paul Dehn

Música

Jerry Goldsmith

Fotografía

Joseph Biroc

Reparto

Roddy McDowall, Kim Hunter, Bradford Dillman, Ricardo Montalbán, Natalie Trundy, Sal Mineo, Albert Salmi, M. Emmet Walsh

Productora

20th Century Fox

Género

Ciencia ficción. Fantástico. Aventuras | Secuela. Simios. Futuro postapocalíptico. Viajes en el tiempo

Grupos

El planeta de los simios

Novedad

Sinopsis

Tres simios, la doctora Zira, Cornelius y el doctor Milo, han conseguido sobrevivir al desastre nuclear que ha destruido su planeta y, tras reparar la nave de los seres humanos, viajan a través del tiempo hasta aterrizar en la Tierra a finales del siglo XX. Mientras son objeto de estudio en un centro de investigación para determinar su nivel de inteligencia, se niegan a revelar sus conocimientos sobre la civilización humana.