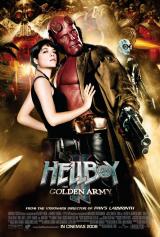 Título original
Hellboy 2: The Golden Army (Hellboy II: The Golden Army)

aka

Año

2008

Duración

110 min.

País

 Estados Unidos

Director

Guillermo del Toro

Guión

Guillermo del Toro (Cómic: Mike Mignola)

Música

Danny Elfman

Fotografía

Guillermo Navarro

Reparto

Ron Perlman, Selma Blair, Doug Jones, Luke Goss, Anna Walton, Jeffrey Tambor, John Alexander, John Hurt, Roy Dotrice, Brian Steele, Montse Ribé

Productora

Universal Pictures

Género

Fantástico. Acción. Aventuras | Monstruos. Cómic. Secuela

Web oficial

http://www.hellboy-lapelicula.es/

Sinopsis

Tras la ruptura de un acuerdo milenario entre la humanidad y ciertos poderes invisibles, el infierno en la Tierra está cada vez más cerca. Un líder despiadado decide traicionar a sus ancestros y organiza un ejército de criaturas diabólicas. Sólo un gran héroe podrá derrotar a este ejército. Se trata de Hellboy. Con la colaboración de la Agencia de Investigación y Defensa Paranormal, Hellboy viajará entre dos mundos, combatiendo seres invocados desde un mundo fantástico. Hellboy, que pertenece a los dos mundos, deberá elegir entre la vida que conoce y el desconocido destino que le reclama.