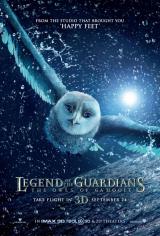 Título original
Legend of the Guardians (Guardians of Ga'Hoole)

Año

2010

Duración

90 min.

País

 Estados Unidos

Director

Zack Snyder

Guión

John Orloff, John Collee (Novela: Kathryn Lasky)

Música

David Hirschfelder

Fotografía

Animation

Reparto

Animation

Productora

Animal Logic / Village Roadshow Pictures / Warner Bros. Pictures

Género

Animación. Fantástico. Aventuras. Acción | Pájaros. Cine épico. 3-D

Sinopsis

Soren es un joven búho que tendrá que luchar heroicamente para salvar a su pueblo de las fuerzas del Mal. Vive en el bosque Tyto, donde siempre ha reinado la paz entre las lechuzas. En su lucha contra el Mal, emprende un largo y angustioso viaje para buscar el Gran Árbol Ga'Hoole. Cuando lo encuentra, él y sus amigos tendrán que someterse a pruebas y afrontar desafíos inimaginables. Si son capaces de aprender de sus jefes y unos de otros, pronto se convertirán en verdaderas lechuzas de Ga'Hoole: honradas y valientes, sabias y sinceras.