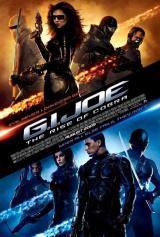 Título original
G.I. Joe: The Rise of Cobra (GIJOE) (Gi Joe)

Año

2009

Duración

118 min.

País

 Estados Unidos

Director

Stephen Sommers

Guión

Stuart Beattie, Skip Woods

Música

Alan Silvestri

Fotografía

Mitchell Amundsen

Reparto

Channing Tatum, Sienna Miller, Marlon Wayans, Ray Park, Rachel Nichols, Adewale Akinnuoye-Agbaje, Jonathan Pryce, Joseph Gordon-Levitt, Arnold Vosloo, Christopher Eccleston, Dennis Quaid, Lee Byung-hun, Saïd Taghmaoui, Brandon Soo-Hoo, Karolina Kurkova, Brendan Fraser

Productora

Paramount Pictures / Spyglass Entertainment / Di Bonaventura Pictures

Género

Ciencia ficción. Acción. Thriller

Web oficial

http://www.gijoemovie.com/es

Sinopsis

G.I. Joe es el nombre en clave de una fuerza especial altamente entrenada cuya misión fundamental es defender la libertad humana y la paz mundial. Los valerosos Joes son hombres y mujeres de coraje, dueños de una mezcla dinámica de talentos especiales, personalidad e ingenuidad. Dotados de algunas de las armas más sofisticadas que puedan concebirse, estos individuos constituyen la fuerza más formidable de combate del mundo. Los G.I. Joes combaten a muchas sombrías organizaciones, pero están siempre inmersos en una lucha constante con COBRA, su maligna némesis que pretende dominar al mundo. Como G.I. Joe, COBRA ha reclutado a un grupo de hombres y mujeres increíblemente hábiles y poderosos: sin embargo todos ellos ponen sus talentos al servicio de los designios malignos de COBRA. Siempre alertas, los Joes deben vigilar el mundo entero, ya que algunas veces las cosas no resultan ser lo que aparentan… Adaptación de la popular serie de animación de los 80, que se hizo aún más conocida gracias a su línea de juguetes.