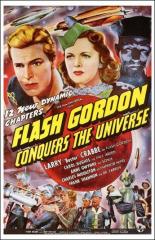 Título original
Flash Gordon Conquers the Universe (TV)

aka

Año

1940

Duración

195 min.

País

 Estados Unidos

Director

Ford Beebe, Ray Taylor

Guión

George H. Plympton, Basil Dickey, Barry Shipman (Cómic: Alex Raymond)

Música

Clifford Vaughan

Fotografía

Jerome Ash, William A. Sickner (B&W)

Reparto

Buster Crabbe, Carol Hughes, Charles Middleton, Anne Gwynne, Frank Shannon, John Hamilton, Herbert Rawlinson, Tom Chatterton, Shirley Deane, Lee Powell, Roland Drew

Productora

Universal Pictures

Género

Ciencia ficción. Acción. Aventuras | Cómic. Miniserie de TV

Sinopsis

Miniserie de TV. 12 episodios. En el planeta Mongo, Flash Gordon, Dale Arden y el Dr. Zarkov batallan contra la Plaga de la Muerte Púrpura, intentando reestablecer en el poder al príncipe Barin. Tercero y último serial de la Universal Pictures basado en el inmortal personaje creado por la pluma y el pincel de Alex Raymond. Los dos previos eran "Flash Gordon" (1936) y "Flash Gordon's Trip to Mars" (1938).