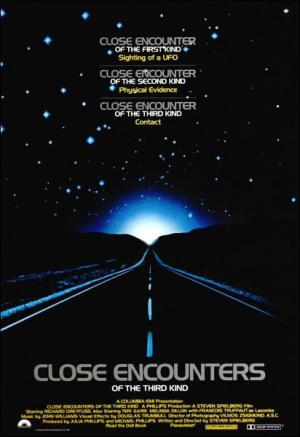 Título original

Close Encounters of the Third Kind

aka

Año

1977

Duración

132 min.

País

 Estados Unidos

Director

Steven Spielberg

Guión

Música

Fotografía

Reparto

Richard Dreyfuss, Teri Garr, Melinda Dillon, François Truffaut, Cary Guffey, George DiCenzo, Bob Balaban, J. Patrick McNamara, Shawn Bishop, Lance Henriksen

Productora

Columbia Pictures / EMI Films / Phillips Productions

Género

Ciencia ficción. Fantástico. Intriga | Extraterrestres

Sinopsis

Una noche, cerca de su casa, en Indiana, Roy Neary (Richard Dreyfuss) observa en el cielo unos misteriosos objetos voladores. Desde entonces vive tan obsesionado por comprender lo que ha visto que se distancia de su esposa (Teri Garr). Encuentra apoyo en Jillian Guiler (Melinda Dillon), una mujer que también ha sido testigo de los mismos hechos. Juntos intentan encontrar una respuesta al misterio que ha alterado sus vidas. Al mismo tiempo, un nutrido grupo de científicos internacionales, bajo la dirección de Claude Lacombe (François Truffaut), empieza a investigar las apariciones de ovnis y otros extraños fenómenos.