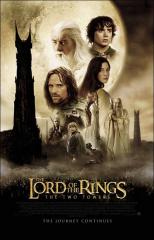 Título original
The Lord of the Rings: The Two Towers

Año

2002

Duración

179 min.

País

 Estados Unidos

Director

Peter Jackson

Guión

Peter Jackson, Frances Walsh, Philippa Boyens, Stephen Sinclair (Novela: J.R.R. Tolkien)

Música

Howard Shore

Fotografía

Andrew Lesnie

Reparto

Elijah Wood, Viggo Mortensen, Ian McKellen, Sean Astin, Andy Serkis, John Rhys-Davies, Orlando Bloom, Bernard Hill, Miranda Otto, David Wenham, Dominic Monaghan, Billy Boyd, Christopher Lee, Liv Tyler, Karl Urban, Brad Dourif, Hugo Weaving, Cate Blanchett, Craig Parker, John Leigh, Sean Bean, John Noble

Productora

Coproducción USA-Nueva Zelanda; New Line Cinema

Género

Fantástico. Aventuras. Acción | Fantasía medieval. Espada y brujería. Cine épico. Secuela

Web oficial

http://www.lordoftherings.net

Sinopsis

Tras la disolución de la Compañía del Anillo, Frodo y su fiel amigo Sam se dirigen hacia Mordor para destruir el Anillo Único y acabar con el poder de Sauron. Mientras, y tras la dura batalla contra los orcos donde cayó Boromir, el hombre Aragorn, el elfo Legolas y el enano Gimli intentan rescatar a los medianos Merry y Pipin, secuestrados por los orcos de Mordor. Por su parte, Saurón y el traidor Sarumán continúan con sus planes en Mordor, a la espera de la guerra contra las razas libres de la Tierra Media.