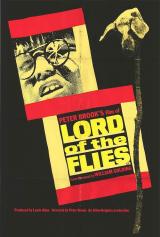 Título original
Lord of the Flies

Año

1963

Duración

91 min.

País

 Reino Unido

Director

Peter Brook

Guión

Peter Brook (Novela: William Golding)

Música

Raymond Leppard

Fotografía

Tom Hollyman, Gerald Feil (B&W)

Reparto

James Aubrey, Tom Chapin, Hugh Edwards, Roger Elwin, Tom Gaman, John Walsh, Jeremy Willis

Productora

Lord of the Flies Company

Género

Aventuras. Drama. Terror | Infancia. Supervivencia

Sinopsis

Durante la II Guerra Mundial (1939-1945), un avión sin distintivo es derribado. A bordo se encuentran varias decenas de niños británicos de edades comprendidas entre los seis y los doce años. El aparato cae en una isla desierta, aislada de cualquier vestigio de civilización. Ningún adulto sobrevive, de modo que los chicos se encuentran, de repente, solos y se verán obligados a agudizar su ingenio y a tomar decisiones si quieren sobrevivir en circunstancias tan adversas.