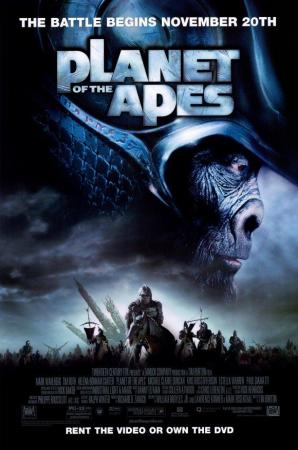 Título original

Planet of the Apes

Año

2001

Duración

120 min.

País

 Estados Unidos

Director

Tim Burton

Guión

William Broyles Jr., Lawrence Konner, Mark D. Rosenthal (Novela: Pierre Boulle)

Música

Danny Elfman

Fotografía

Philippe Rousselot

Reparto

Mark Wahlberg, Helena Bonham Carter, Tim Roth, Estella Warren, Paul Giamatti, Michael Clarke Duncan, Kris Kristofferson, Cary-Hiroyuki Tagawa, David Warner, Charlton Heston, Erick Avari, Glenn Shadix, Lisa Marie

Productora

20th Century Fox presenta una producción de Zanuck Company

Género

Ciencia ficción. Fantástico. Aventuras. Acción | Simios. Remake. Futuro postapocalíptico

Grupos

El planeta de los simios

Novedad

Sinopsis

Año 2029. En una misión rutinaria, el astronauta Leo Davidson (Mark Wahlberg) pierde el control de su nave y aterriza en un extraño planeta, que está gobernado por una raza de simios cuya inteligencia es similar a la de los seres humanos, a los que, sin embargo, tratan como si fueran animales. Con la ayuda de una chimpancé (Helena Bonham-Carter) y de un pequeño grupo de rebeldes, Leo encabeza una rebelión contra el poderoso ejército dirigido por el general Thade (Tim Roth). La clave de la victoria consiste en llegar a un templo sagrado, situado en la zona prohibida del planeta, que contiene los extraordinarios secretos del pasado de la humanidad.