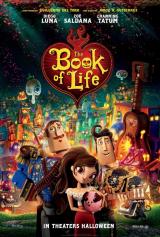 Título original

The Book of Life

Año

2014

Duración

95 min.

País

 Estados Unidos

Director

Jorge R. Gutiérrez

Guión

Jorge R. Gutiérrez, Douglas Langdale

Música

Gustavo Santaolalla

Fotografía

Animation

Reparto

Animation

Productora

20th Century Fox Animation / Reel FX Creative Studios / Chatrone; Productor: Guillermo del Toro

Género

Animación. Comedia. Fantástico. Musical | Sobrenatural. Toros. 3-D

Web oficial

http://www.bookoflifemovie.com/

Sinopsis

La película cuenta el viaje de Manolo, un joven torero que se debate entre cumplir con las expectativas de su familia o seguir su corazón y dedicarse a su verdadera pasión: la música. Antes de escoger el camino que seguirá, emprende una aventura recorriendo tres mundos fantásticos, donde tendrá que superar sus peores miedos. Producida por Guillermo del Toro.