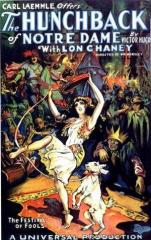 Título original
The Hunchback of Notre Dame

aka

Año

1923

Duración

133 min.

País

 Estados Unidos

Director

Wallace Worsley

Guión

Edward T. Lowe & Perley Poore Sheehan (Novela: Victor Hugo)

Música

Hugo Riesenfeld

Fotografía

Robert S. Newhard & Tony Kornman (B&W)

Reparto

Lon Chaney, Patsy Ruth Miller, Ernest Torrence, Raymond Hatton, Norman Kerry, Tully Marshall, Brandon Hurst

Productora

Universal Pictures

Género

Drama | Cine mudo. Siglo XV. Discapacidad

Sinopsis

Mientras baila en una plaza, la gitana Esmeralda es descubierta por Jehan. Obsesionado por su belleza, el hombre ordenará a Quasimodo, el campanero jorobado de Notre Dame, secuestrarla. Pero cuando Quasimodo es capturado y azotado, Esmeralda será la única que le demuestre su bondad.