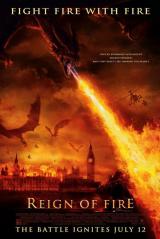 Título original
Reign of Fire

Año

2002

Duración

100 min.

País

 Estados Unidos

Director

Rob Bowman

Guión

Matt Greenberg & Terry Hayes (Historia: Gregg Chabot & Kevin Peterka)

Música

Edward Shearmur (AKA Ed Shearmur)

Fotografía

Adrian Biddle

Reparto

Matthew McConaughey, Christian Bale, Izabella Scorupco, Gerard Butler, Scott Moutter, David Kennedy, Alexander Siddig, Alice Krige, Jack Gleeson

Productora

Spyglass Entertainment / Touchstone Pictures / The Zanuck Company

Género

Fantástico. Ciencia ficción. Thriller. Acción | Futuro postapocalíptico. Dragones

Web oficial

http://www.reignoffire.com

Sinopsis

En Londres, Quinn, un niño de doce años, despierta sin querer a un enorme dragón de su letargo de siglos. Veinte años más tarde, pueden apreciarse las devastadoras consecuencias del paso de la bestia y de sus vástagos por todo el planeta. Los dragones son seres extremadamente inteligentes que no tienen ninguna intención de compartir la Tierra con los seres humanos. Quinn (Christian Bale) es ahora Jefe de Bomberos. Su trabajo consiste en mantener alejadas a las bestias para garantizar la supervivencia de una pequeña población. En medio de este caos aparece Van Zan (Matthew McConaughey), un norteamericano que asegura saber cómo acabar con los dragones y salvar a la humanidad.