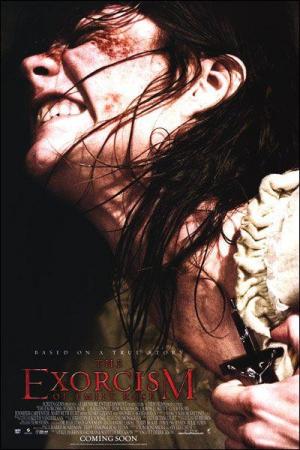 Título original

The Exorcism of Emily Rose

Año

2005

Duración

117 min.

País

 Estados Unidos

Director

Scott Derrickson

Guión

Scott Derrickson,

Paul Harris Boardman

Música

Fotografía

Reparto

Jennifer Carpenter, Laura Linney, Tom Wilkinson, Colm Feore, Campbell Scott, Shohreh Aghdashloo, Mary Beth Hurt, JR Bourne, Joshua Close, Kenneth Welsh, Henry Czerny, Duncan Fraser

Productora

Screen Gems / Lakeshore Entertainment / Firm Films

Género

Terror. Intriga | Posesiones/Exorcismos. Religión. Sobrenatural. Drama judicial. Basado en hechos reales

Web oficial

http://www.sonypictures.com/movies/exorcismofemilyrose/site/

Sinopsis

La Iglesia Católica tomó una decisión poco común al reconocer oficialmente la posesión demoníaca de una joven estudiante americana de 19 años. Emily Rose deja la seguridad de su hogar en un medio rural para ir a la universidad. Una noche, sola en su dormitorio, sufre la primera alucinación aterradora y pierde el conocimiento. Como estas experiencias son cada vez más frecuentes e intensas, Emily, católica devota, decide recurrir a un sacerdote y someterse a un exorcismo que le cuesta la vida. El padre Moore es entonces acusado de homicidio por negligencia. Erin Bruner, una brillante abogada acepta de mala gana hacerse cargo de su defensa. A medida que el juicio avanza, el cinismo y el ateísmo de Erin se tambalean debido a la fe inquebrantable del Padre Moore y a los hechos, espeluznantes e inexplicables, que rodean el caso.