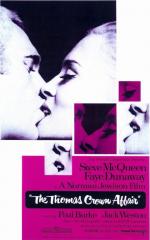 Título original

The Thomas Crown Affair

Año

1968

Duración

102 min.

País

 Estados Unidos

Director

Norman Jewison

Guión

Alan R. Trustman

Música

Michel Legrand

Fotografía

Haskell Wexler

Reparto

Steve McQueen, Faye Dunaway, Paul Burke, Jack Weston, Yaphet Kotto, Todd Martin, Biff McGuire

Productora

UA / The Mirisch Corporation

Género

Drama. Intriga | Robos & Atracos

Sinopsis

Thomas Crown (McQueen), un millonario de Boston, un hombre que se ha hecho a sí mismo, se aburre de la vida que lleva. Para huir de la rutina, prepara un golpe perfecto: robar un banco y marcharse después a Brasil. Reúne a un grupo de delincuentes, deposita tres millones de dólares en un banco suizo y da el golpe sin dejar pistas. De esclarecer el caso se ocupará una investigadora de una compañía de seguros (Dunaway).