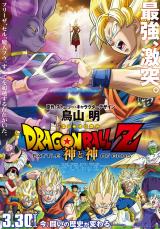 Título original
Doragon Bôru Zetto: Kami to Kami (Dragon Ball Z: Battle of Gods)

Año

2013

Duración

85 min.

País

 Japón

Director

Masahiro Hosoda

Guión

Yûsuke Watanabe (Cómic: Akira Toriyama)

Música

Norihito Sumitomo

Fotografía

Animation

Reparto

Animation

Productora

Toei Animation

Género

Animación. Ciencia ficción. Acción | Artes marciales. Dragon Ball. Manga

Web oficial

http://www.toei-anim.co.jp/movie/2013_dragonballz/

Sinopsis

Algunos años después de la batalla con Majin Buu, Bils, el dios de la destrucción, encargado de mantener el equilibrio del universo, se ha despertado de un largo sueño. Al escuchar rumores sobre un saiyajin que ha vencido a Freezer, Bils parte a la búsqueda de Goku. Emocionado por el hecho de que haya aparecido, después de tanto tiempo, un oponente tan poderoso, Goku ignora las advertencias de Kaito y decide enfrentarse a él.