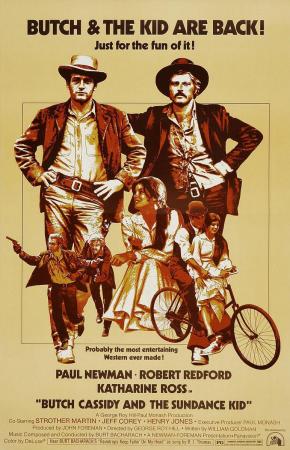 Título original

Butch Cassidy and the Sundance Kid

Año

1969

Duración

112 min.

País

 Estados Unidos

Director

George Roy Hill

Guión

Música

Fotografía

Reparto

Robert Redford, Paul Newman, Katharine Ross, Strother Martin, Jeff Corey, Henry Jones, Cloris Leachman, Ted Cassidy, Kenneth Mars

Productora

Género

Western | Crimen. Buddy Film. Amistad. Película de culto

Sinopsis

Un grupo de jóvenes pistoleros se dedica a asaltar los bancos del estado de Wyoming y el tren-correo de la Union Pacific. El jefe de la banda es el carismático Butch Cassidy (Newman), y Sundance Kid (Redford) es su inseparable compañero. Un día, después de un atraco, el grupo se disuelve. Será entonces cuando Butch, Sundance y una joven maestra de Denver (Ross) formen un trío de románticos forajidos que, huyendo de la ley, llegan hasta Bolivia.