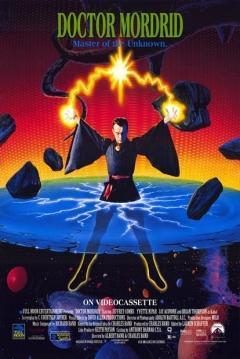 Título original

Doctor Mordrid: Master Of The Unknown

Año

1992

Duración

74 min.

País

 Estados Unidos

Director

Albert Band, Charles Band

Guión

C. Courtney Joyner,

Charles Band

Música

Fotografía

Reparto

Jeffrey Combs, Yvette Nipar, Jay Acovone, Keith Coulouris, Ritch Brinkley, Brian Thompson, Murray Rubin, Jeff Austin, John Apicella

Productora

Género

Fantástico. Acción. Thriller | Superhéroes. Cómic. Marvel Comics

Grupos

Doctor Extraño

Novedad

Sinopsis

Película no oficial del Doctor Extraño (Doctor Strange). Una mujer descubre que su vecino es en realidad una poderoso hechicero de la cuarta dimensión, que debe proteger al mundo de la devastación que ocurriría si tomase el control el Doctor Mordrid.