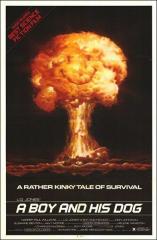 Título original
A Boy and His Dog (Psycho Boy and His Killer Dog)

Año

1975

Duración

91 min.

País

 Estados Unidos

Director

L.Q. Jones

Guión

L.Q. Jones (Historia: Harlan Ellison)

Música

Tim McIntire

Fotografía

John Arthur Morrill

Reparto

Don Johnson, Susanne Benton, Jason Robards, Tim McIntire, Alvy Moore, Helene Winston, Charles McGraw, Hal Baylor, Ron Feinberg, Michael Rupert, Don Carter, Michael Hershman, L.Q. Jones

Productora

LQ/JAF

Género

Ciencia ficción. Thriller. Drama. Comedia | Futuro postapocalíptico. Distopía. Holocausto nuclear. Perros/Lobos. Serie B

Sinopsis

En el año 2024, en un futuro post-apocalíptico indeterminado, un adolescente (Don Johnson) y su perro telépata intentan sobrevivir en un mundo casi destruido tras una nueva Guerra Mundial.